BUT NO PUD COMES CLOSE TO THE MAGIC PUDDING
Anna Tambour, guest blogging


"You'll enjoy this Puddin'," said Bill, handing him a large slice.

"This is a very rare Puddin'."

"It's a cut-an'-come-again Puddin'," said Sam.



"It's a Christmas steak and apple-dumpling Puddin'," said Bill.



"

It's a --.

Shall I tell him?" he asked, looking at Bill.

Bill nodded, and the Penguin leaned across to Bunyip Bluegum and said in a low voice, "It's a Magic Puddin'."

"No whispering," shouted the Puddin' angrily.

"Speak up.

Don't strain a Puddin's ears at the meal table."

"No harm intended, Albert," said Sam, "I was merely remarking how well the crops are looking.

Call him Albert when addressing him," he added to Bunyip Bluegum.

"It soothes him."

"I am delighted to make your acquaintance, Albert," said Bunyip.

"No soft soap from total strangers," said the Puddin', rudely.

…from THE MAGIC PUDDING almost forgotten in Australia, but being discovered in the USA
At Melbourne's Continnum: Creatures Natural and Unnatural, in July 2005, The Magic Pudding never made an appearance in any discussion, to my knowledge, even in the panel "Folk and Fairy Lore in Australia". I asked why, and someone said, "I guess everyone forgot it." Perhaps this wonderful book and its unique characters will be rediscovered as valued imports, in the grand tradition here.


"But it was always thus. As far back as 1857, a Sydney nurseryman advertised in his catalogue of plants the Swan River daisy--from seeds imported from England. Then during the First World War a Melbourne nurseryman sent to England for seeds of Sturt's desert pea, which covered untold acres close to Broken Hill. He received the reply: 'None available now that the German market is closed' …before the German market closed another Melbourne nurseryman imported the seeds of 100 varieties of Australian wattle--the cultivation of them had not been attempted here…" - from "Knockers", by Keith Dunstan, Cassell, Australia, 1972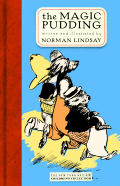 There's never a Magic Pudding in my house. He keeps getting himself given away. Incomparable, irascible, unpredictable in the extreme. The story is "better than Alice in Wonderland", and the pictures are even better--all by that incomparable himself, Norman Lindsay, the man who painted "The Crucified Venus", and whose caricature of himself (with a nose that if made of wood, could have made a thousand ships) is on the cover of my novel, Spotted Lily.