SOME THOUGHTS ON AUSTRALIAN FANTASY: Part One
Grace Dugan, guest blogging

In the group interview, Jeff asked us if there was anything special or unique about Australian sf. This got me thinking. Not that I've never discussed this before, but lately a few thoughts have been solidifying in my head, particularly about Australian fantasy. So I'm going to embark on an attempt to jot them down in some random order and see if they add up to anything.

My Childhood with Plants

I was raised on a pretty steady diet of fairy stories. We had two of those colour-coded fairy books, violet and gold I believe they were, but also The Magic Faraway Tree, various other Enid Blyton creations, and of course Disney. In our house we hade some small framed pictures by Cicely Mary Barker, and I also had a birthday book with her drawings of fairies for all the letters of the alphabet. The first thing I wrote that I still have is a 1000-word story dictated to my mother when I was five, entitled Baby Rose Gets Lost. The basic story is that Baby Rose gets to go and have tea with Mrs Rabbit, then plays a series of extremely enjoyable games with the baby rabbits, Hopsy and Pebbles, and then they build a beautiful cubby house.

"They got nice smelling mint and pinned it on the hut. How pretty it all looked. They asked a friendly spider for some of his spider web and they found two more hedgehog prickles and used them for needles to sew all the mint and flower petals together. Then they asked the rabbits' mother for glue, and they glued the mint and flower petals together and used them for wallpaper."

The only moment of tension is when Baby Rose gets lost on the way home, but it doesn't last long. In the end she asks her mother if she can go and live with the baby rabbits, and her mother says yes.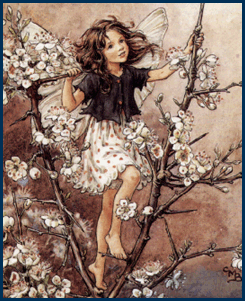 Cicely Mary Barker's Blackthorn Fairy

From when I was five to ten, we lived in a house with a little garden out the front. This garden became the site of many of my imaginary adventures and games. Honeysuckle and jasmine grew over the front of the house. There was a lavender bush and a daisy bush which in particular had hidden depths where I created little bowers for my dolls and ponies. The garden had pansies and gardenias and miniature roses.

When I was ten we moved out of town to a property. The property backed onto some state forest, which connected up to the Main Range National Park. It would have been possible to leave by the back door and walk for days, if not weeks, without crossing a road. But me and my friend Nina had no such ambitions. The landscape for our games was a wooded area probably less than 500 by 500 metres. It was what is known as dry scherophyll, basically gum trees, foot-high dry grass and lots of silver dead wood. Cattle sometimes grazed in there; it was basically a paddock with trees. But it was on a slope, and was hilly enough so that you couldn't see out of it from the inside. We built a series of cubbies, first in a gully, where we put a frame of heavy wire mesh across a couple of bits of wood and wove dry grass through it to dry to create some kind of thatch. The second was in a tree which had fallen upside down, in such a way that it created a triangular frame, although there always seemed to be spiders around there so we abandoned it after a while.

Out at the farm it was difficult to grow things. There was a drought on. My mother used to carry bathwater out into the garden. Then there was a plant quarantine because of melon-thrip, so everything had to be grown from seed. On top of that, hungry possums and wallabies would often eat new and/or tasty plants, despite the most serious of preventative measures. My mother often spoke nostalgically of the gardens of Melbourne, where apparently everyone had gardenias and daphne and magnolias, or of the blue hydrangeas of her childhood in Sydney (where we lived they turned out red). This always felt to me like a longing for the old world.

My childhood reading progressed from the Babysitters Club to the Narnia books to Anne of Green Gables through to David Eddings and Raymond Feist. The paddock where we played was just over the fence from an area where the undergrowth had not been burned off or eaten away, so that it was much more difficult to walk through, and had a darker and messier look about it. We liked to call this area the Forbidden, and we never went there.

The simple truth of it was that for us the bush was fantasyland. We were decidedly uninterested in Australian history. It was boring. On a school excursion we visited Leichhardt's tree, where the ill-fated Ludwig Leichhardt met with his companions before walking off to his death somewhere north of there (if I remember correctly). We went to old homesteads and learned about Jackie Howe, the greatest sheep shearer of all time (to whom a giant pair of shears stands as a memorial at the entrance to Warwick, in the Jackie Howe Memorial Rest Area. He sheared 321 sheep in 7 hours and 40 minutes). But it was boring. When we were out in the bush we were adventurers, we were on a quest.

When I was sixteen or seventeen, I became more interested in bushwalking, and the Forbidden became the starting point for a number of walks between our house and the ridge behind it. In the winter of either Year 11 or Year 12, I used to often go for a walk after school. I had to get out of my uniform and into my boots and army pants as quickly as possible in order to get an hour or an hour and a half of light. It got darker much faster in the bush than in the open, and when it got dusky things were hard to see. In that kind of bush, where there was dense undergrowth of hoveas and blackthorn and wattle, there were so many small leaves and little crisscrossing branches that it would have been impossible to draw it in any detail. The dead leaves on the ground were bone white, the grass became grey, it was all a little creepy. It was at this time of day, while hurrying home on the firetrack, that I used to remember that the place had a history before we were there, that the land was old; I didn't know what history it had, I didn't even know the name of the Aboriginal people who had lived there, or what had happened to them, or if any of their descendants still lived in the area. Then I'd get back to the golden-lighted house, to sweet-and-sour chicken, tea, homework and Seinfeld, and reading in bed.

Grace Dugan's first novel, which she started in September of her final year of high school, is coming out from Penguin Australia in 2006. It's called The Silver Road.